Together, Living our Love
Meet The Love Awakening Committee: our fellowship of love filled beings, dedicated to our mission of assisting humanity's awakening to the power of love. We gather at least one a month for creative planning and sharing sessions about our events and activities. We come from many walks of life and professions, most of us have been working together for well over a decade. With full lives and schedules, we gratefully manage to volunteer our time, skills and talents in ways of loving service. We do this because we love it, we love us, we love you, we love the world, we love love. We don't always wear elf costumes, though sometime's it's a nice way to let some of our true spirit shine though. We look forward to sharing with you and hope that you join in the fun.
That's Vanessa, to the right, the Director of The Love Awakening, and our committee's guiding force. When she's not out elfing around with us and spreading joy, or putting the FUN in a fundraising rummage sale, she changes into her costume as a high school teacher for the San Mateo County School District.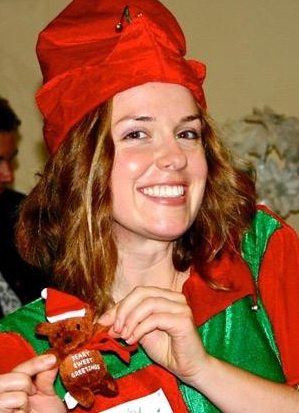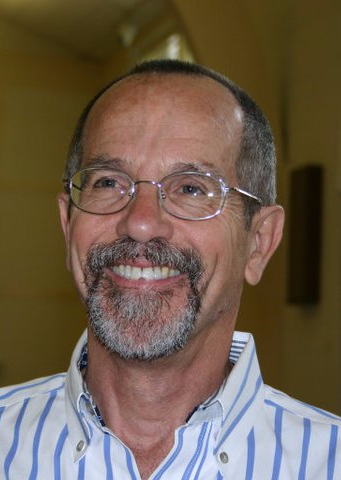 That smiling, light-beaming face to the left is Brian. He helped to bring that elf above to the earth. (Vanessa's dad!) He's been a dedicated member of our committee since its inception. We know Brian to be a dear heart and a very punny man. He's our Main Ham Extraordinaire at our monthly sing-alongs, and he enjoys handling some of our secretarial and treasurer duties. He's passionate about teaching the Embrace of Acceptance Class series and helping with its curriculum development. Many people know also him as their favorite family law attorney in San Mateo, California.
Just look at how excited MaryAnn is to sell that mop at our annual FUNdraising rummage sale for The Rodan Foundation. That's love in action! Boy, does MaryAnn put her creative talents to use for us. She loves to help us coordinate our Sing & Shares, she makes our Kindness Cards for the senior residents, she's our editor in chief, a certified teacher of our class series and she helps to keep our teaching development project rolling along. She also has a private healing practice where she offers a powerful work called BodyTalk, a myriad of wonderful classes about healing, and a full-of-wisdom oracle card deck, too.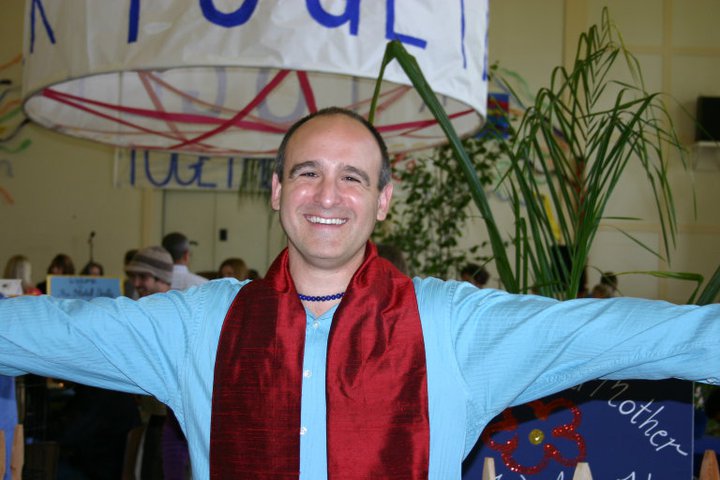 My, Arin! What a big heart you have! And a great hug giver! Arin loves to teach the "I Love Me" Meditation and the Embrace of Acceptance classes to people of all ages. He's given us gazillions of hours of his artistic talent for many of graphic art and promotional needs. He manages our charitable food drives during the holiday season. His heart is in it all the way. By day, Arin plays the role of a Dean of students at Gate Academy, a school for gifted children in Marin. He's a fine artist, too, pouring his love into beautiful sculptures and paintings. Here he is, beaming his shining heart light at one of our festivals.
Tom is his Beachy Keen self here in this photo, cleaning up the trash from a local beach. Tom channels his care for our Mother Earth into helping us to coordinate beach, bay and park cleanups throughout the year. He's a teacher of the Embrace of Acceptance class series and a senior class member in the Rodan Foundation's Philosophy and Development class. Tom is an acupuncturist, Chinese medicine practitioner, tui na and massage therapist with a healing practice in San Carlos. He's also a farmer, and a chicken whisperer, originally from Texas, y'all. So be sure to come a-runnin' for the funnin', ya hear?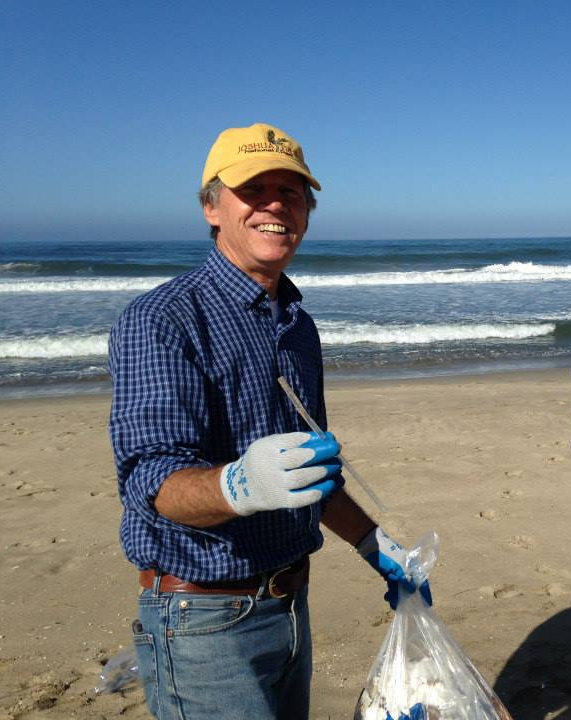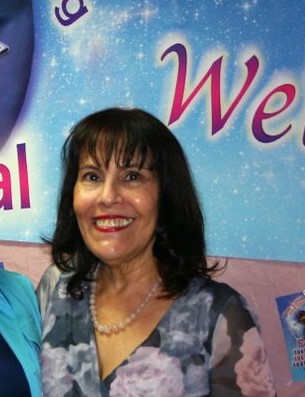 Here's Linda, greeting guests with love at one of our past festivals. She has been serving with us since our inception, teaching the "I Love Me" Meditation and now the Embrace of Acceptance class series. With her help and lovely, soothing voice, we have our original recordings of the "I Love Me" Meditation. She also handles our annual One Warm Coat Drive and the phone reception for The Love Awakening. She's a certified yoga instructor and a chakra reader, too, helping people to love their bodies and to experience greater health, alignment and balance.
Noel knows the way to our hearts. She is the illustrious Food Babe Queen for the Rodan Foundation and the patron of the fundraising cookbook, Happy Bellies Happy Hearts; a collection of community recipes. She brings great ideas for our acts of service and helps The Love Awakening with our Facebook page and our class series development and administration. She's also a registered nurse, a case manager and a leader of many good works for our local hospitals.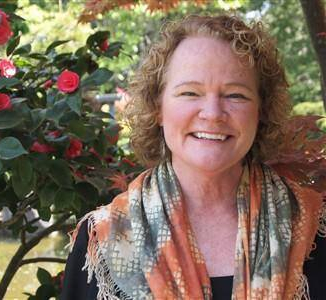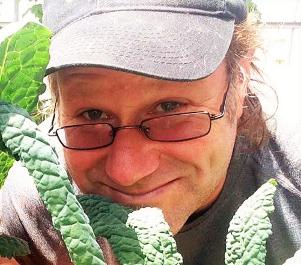 Ken likes plants. And fish. And growing stuff. He's the owner of Ouroboros Farms, an organic, sustainable food growing and education facility. When he met The Love Awakening at one of our festivals, he knew he had found his home and family. Now he likes to grow his love, too. Ken hopes to bring the awareness of sustainable living and loving the earth to The Love Awakening through connecting Ouroboros farms with events and learning opportunities. He's good at helping us with techie related stuff now and then, too. We're always grateful for his smiling presence and easy ways.

Jacqueline takes loving and awakening very seriously and is determined to have serious fun while she's at it. She helped to start The Love Awakening nearly a dozen years ago, volunteering as its director of the committee fellowship, initiating projects and inspiring love with gusto (and a sprinkling of singing and dancing here and there). She otherwise devotes her time helping people to love, heal and awaken with counseling, coaching, education, body therapies and group facilitation. She's very excited about bringing The Love Awakening across the pond with her to her new home in England.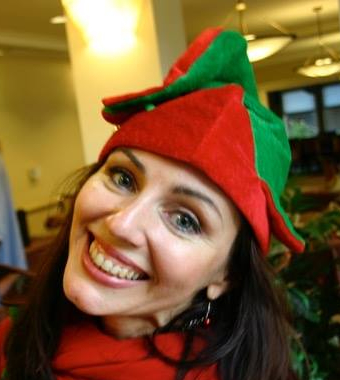 All of The Love Awakening committee are also members of The Rodan Foundation. Our course material as well as the inspiration for the creation of The Love Awakening as an expression of service through love, has been inspired by the teachers of our Tuesday and Thursday night Philosophy and Development Class, which has been ongoing in Burlingame, California for more than 35 years.
Over the years we have committee members come and go. The love they gave us will always be remembered with smiles of gratitude. This is also true for the many volunteers who have joined us and continue to share with us throughout our journey. Hats off with beaming hearts of love to you! You make a difference!
Copyright
©
2016, 2017 The Love Awakening of
The Rodan Foundation. All Rights Reserved.