If I were choosing to live love fully, what would my life be like?
If everyone were living in love, what would the world be like?
Join us in this beautiful experiment and discover for yourself. Our intention is to help others help themselves awaken to who they are through the powers and abilities they have. Our vision of the collective awakening of humanity, as our life-giving intentions and efforts radiate and ripple out in a sparkling love-wave, spreading around the globe, bringing forth harmony and unity for all.
The Love Awakening is run solely through volunteer efforts of loving community. We offer self-empowerment tools through our certified teachers who facilitate a series of guided meditations designed to assist you in developing greater self-love. The meditations include a variety of exercises to help you awaken and reclaim your power through living positive frequencies. We continue to develop more life-affirming courses and educational resources. We also frequently engage in loving acts of service to support the peoples and environment of our local and greater community.
You are invited to join us, as together we learn and grow in the ways of living love and loving life.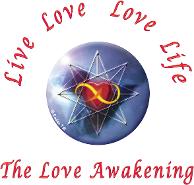 Copyright © 2016, 2017 The Love Awakening of
The Rodan Foundation. All Rights Reserved.